Russian paintings from the 18th to the mid 20th centuries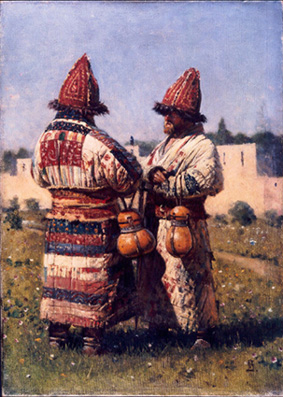 Vasili Vasilievich Vereschagin (1842-1904) Two Dervishes signed with initials, oil on canvas 49.5 by 35cm.
The last twenty years has seen a transformation in the market for Russian paintings. When we started the Russian sales at Sotheby's in the 1980s, Russia was still a distant, little known country. Travel there was difficult, and for Russians travel here was impossible. With the exception of a few émigrés, Russians were unable to compete for their own art on the international market. As a consequence, the only buyers were a small circle of enlightened foreigners, many of them attracted by the comparatively low prices of Russian paintings. These low prices were the result of the absence of Russian buyers from the market for economic and political reasons. Thus, whereas Swedes buy Swedish art, Americans American art and so on, there were no informed Russian buyers and the notion of what was important in Russian art was determined by the taste, to a large extent, of American buyers. All this changed fundamentally in the early 1990s, when Russians, first a few, then in ever greater numbers, began to follow the international market. By the time we left Sotheby's in 1995, more than three quarters of the picture buyers were Russian.
This trend continues. There is now an active market in Russia with twice yearly antique fairs in Moscow, auction houses and galleries with a variety of specialities. Prices have risen several-fold, but in our opinion this trend will continue. Russia is an enormous country with a well-established tradition of art collecting, yet for a variety of reasons, available works of art of high quality are limited.
There is also a page of paintings that have passed through our hands