Russian drawings and watercolours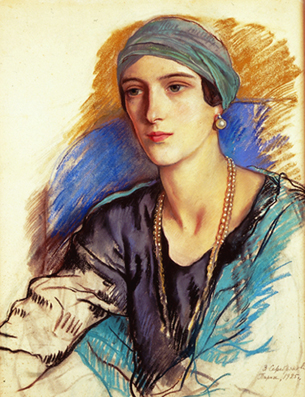 Zinaïda Evgenievna Serebriakova (1884-1967) Princess Irina Alexandrovna Yusupova (1895-1970) Signed and dated Paris 1925, pastel 51 by 66cm
Provenance: Family of the sitter
It is often in an artist's drawings that his personality is most directly reflected. Drawings can be the first tentative workings, "ideas in line" that are then abandoned, or later become a picture on canvas. They can also be highly finished works of art in themselves, polished and presented to the public without thoughts of further development. In both cases, the immediacy of the artist's contact with the sheet of paper lends an intimacy that is sometimes missing from a large and finished canvas. Watercolours, similarly, have traditionally been held in lower esteem than pictures in oils, although they require no lesser mastery of handling, technique, and composition.
Russian watercolours and drawings is an area in which it is still possible, with relatively little means, to form a collection of museum importance. There are several reasons for this. Firstly, there are more of them. With few exceptions, the graphic works of an artist largely outnumber works on canvas. Secondly, their generally smaller size meant that in the upheavals of the twentieth century they tended to be more transportable than large canvases (many émigré families brought with them charming watercolour portraits of their relatives by such artists as Sokolov and Hau). Thirdly, in the present market they are still undervalued. A drawing by Serov or Aivazovsky still costs a fraction of the price of a canvas by the same artist.
For an introduction to the history of Russian graphic art, we refer you to the article written by the late painter and art historian Sergei Essaian for the exhibition 101 Masterpieces: Russian Graphic Art 1790-1820.
There is also a page of paintings that have passed through our hands.