Gumiliov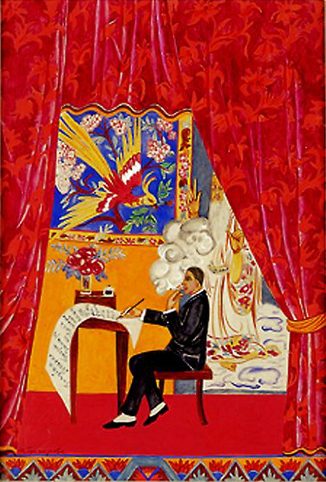 Natalia Sergeievna Goncharova (1881-1962)
Portrait of the Poet Nikolai Stepanovich Gumiliov (1886-1921) smoking and writing his poem in "A blue Summerhouse on a river…" signed, gouache over pencil
31 by 21cm
Provenance:
Goncharova's studio, Paris, acquired from Madame Alexandra Tomilina, widow of Mikhail Larionov Private Collection, London
Published:
Anthony Parton, Mikhail Larionov and the Rusian Avant Garde, Princeton, 1993, p. 168 Shelagh Duffin Graham, Nikolaj Gumilev 1886-1986, Berkeley, 1987, frontispiece Nashe Nasledie, 1998 Pinakotheka, 1998
Gumiliov was born in the Naval Hospital of Kronstadt, his mother being a Princess Lvova, sister of an admiral, and his father a naval surgeon. He wrote his first poems at the age of 8 and his first book at 19. He married the poetess Anna Akhmatova, with whom he started a new literary movement known as "Acmeism." The couple divorced in 1918. He enlisted in 1914 and by the age of 30 had twice been awarded the order of Saint George. At the end of the War he volunteered to fight with the Allies on the Salonika front. In his early youth he had flirted with Marxism, but after the revolution was a convinced monarchist who returned to Red Petrograd in 1918, where he taught the craft of verse. His poetry is full of exotic images and differs considerably from the complicated language of the previous generation of symbolist poets. In 1921 he was among 61 members of the intelligentsia arrested by the Cheka. In prison he read Homer and the New Testament. He was shot by the Cheka at the age of 35. The portrait would appear to have been painted in 1917 when Gumiliov visited Paris during the Great War.
Goncharova studied at the Moscow school of Painting, Sculpture and Architecture under Prince Paul Trubetskoy and Konstantin Korovin. Represented the younger generation in the first exhibition of Russian Art held by Diaghilev in Paris in 1906. Took part in the first exhibition held by the Knave of Diamonds group (1910), and together with her life-long companion Mikhail Larionov founded the Donkey's Tail group (1911) Target (1913) and in other avant garde exhibitions of the period in Moscow, Berlin and Paris. In 1915 emigrated with Larionov to Switzerland. From 1919 lived in Paris. She was a central figure in the explosive artistic life of pre-Revolutionary Russia, and co-founder with Larionov of Russian neo-primitivism and rayonnism; the first a reinterpretation of folk art, with influences from icon painting, while the second is one of the first experiments in abstract painting. Between 1914 and 1929 she worked on a number of projects with Diaghilev's Ballets Russes.