Mashkov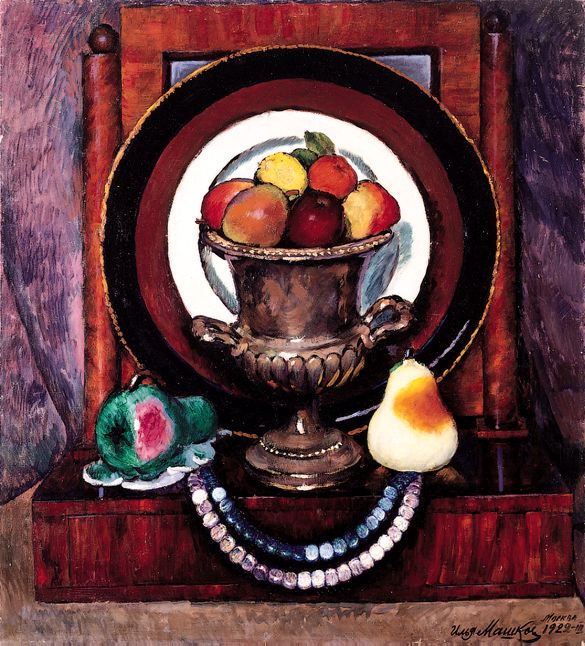 Ilya Ivanovich Mashkov (1881-1944)
Still Life a Mirror, a Plate, and Fruit in a Classical Steel Urn signed and dated Moscow 1922, oil on canvas
99 by 90cm.
Provenance: Purchased in Berlin or St. Petersburg in the 1920's by A. Konstantinovski, a Russian citizen resident in Berlin, and the grandfather of the present owner. Thence by descent to his son and grandson, Paris.
Our painting is fully signed by the author and dated Moscow, 1922, the same date as other published works by Mashkov which contain several elements also present in our still life; the steel urn, the mahogany mirror and the porcelain fruits. See I.S. Bolotina, op.cit., plate 59 Still Life with a Doll , plate 62 Still life with a fan, (in the Russian Museum) and plate 63 Still life with porcelain fruits. Our canvas is remarkable in that it has been in the same collection for more than half a century, and has never been exhibited (see the attached letters from the former owner).
Together with Mikhail Larionov, Piotr Konchalovsky and Aristarh Lentulov, Mashkov founded the group known as Bubnovy Valet (Knave of Diamonds), whose first exhibition was held in 1910. Mashkov undoubtedly comes across as the most original of these artists. Having assumed the analytical method of Cezanne, and combined it with the representational language of an urban primitive (using, for example, street signs as an inspiration), he created his own synthesis of the two trends, giving a monumental character to his easel painting.
Mashkov's synthesised style is on the verge of the confrontational and is distinguished by the deliberate flatness of the composition, the powerful rendition of modelling using colour and the tension of the unusual colours themselves . All these qualities may be discerned in the above still life, which distinguish it as a first class example of the master's fully developed style