Petrov Vodkin Archangel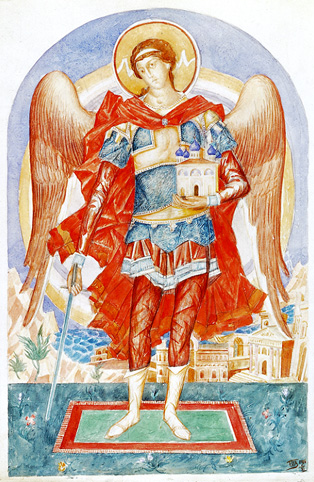 Kuzma Sergeievich Petrov-Vodkin, (1878-1939)
Archangel Michael
signed with initials and dated 1916, watercolour over pencil 50.5 by 43cm.
Provenance:
Mstislav Dobouzhinsky, who received it as a gift from Petrov-Vodkin.
Born in Kvalynsk, Petrov-Vodkin's first exposure to art was from a local icon painter whom he used to watch as a child. He made his formal studies at Baron Stieglitz school in St. Petersburg and at the School of Painting, Sculpture and Architecture in Moscow. He also studied privately abroad, in Munich (1901) and in Paris (1905-8). Member of the World of Art and the Four Arts, he lived, worked and died in St. Petersburg (Leningrad) where he taught at the Academy. A brilliant painter and draughtsman, he created a very distinctive and original style, in which he incorporated elements of Russian icon painting in both his treatment of form and his use of flat colour planes.